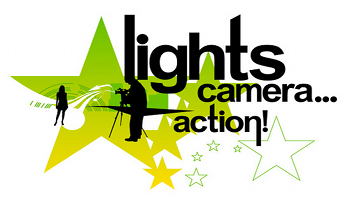 This post was written by guest author Anne Cauley. You can find out more about Anne below.
You know YouTube is the second most used search engine.
You know adding a video clip to your content will help your Google (search) rankings soar.
You know your content will be more appealing to more people if you include video.
YET you avoid YouTube.
Here are some hints and tips that will take you from stage fright into the star light: all you need is a web camera enabled computer.
First of all, you need to consider that you are going to be the writer, the actor, the director, the producer and the editor BEFORE you engage YouTube, like a film studio, to publish and distribute your work. So here are some steps that take you through the basics to 'get it right the first time'.
Screenplay Considerations:
A good screenplay writer will consider his/her audience, because it will impact:
What is said and how it is said. Just like a screenplay writer will watch the language depending on the audience: so must you. Don't use techno-language and abbreviations unless your audience is familiar with (and understands fully) that language. (Otherwise, it will be similar to shooting a foreign film: in which case you better use sub-titles.)
The location. Be sensitive to the location of where you shoot your video. Your office may not be appropriate for a cooking tutorial; however, your kitchen may be.
The wardrobe. What you wear should depend on your intent and your audience. Don't wear your workout attire if you are targeting a corporate audience and asking them to hire you; however, if you are talking about the secrets of pilates…. then go ahead and wear those yoga pants.
Think of your video as a short story and script it accordingly: keep it short & to the point. (Enough said about that!)
Location, Location, Location!
Carefully, consider the set and all the lighting: your location setup is very important.
Set the mood (and increase the video quality) with proper lighting. Watch the overhead lights they can wash you out and make your red hair look blond. Instead, use softer incandescent light. Then set up your camera properties and select the appropriate lighting conditions. You could even consider using something like an led ring light like the popular YouTubers do! See the products here as examples of what you could use in your filming setup – https://paydaydeals.com.au/collections/led-ring-lights. (You may want to play around a bit with this. I found that the indoor/outdoor settings were pretty accurate if you had a cloudy day or whether you were in the kitchen or office.)
De-clutter. As a general rule of thumb, de-clutter your set. (Unless you are trying to brand yourself as a professor-like genius.) Tons of material has been written about the negative impacts of clutter: Stephanie Roberts from the FastFungShui.com cautions, "The more clutter you have, the more sluggish the energy becomes." And we don't want a sluggish video!
Stage your space. If you are shooting a cooking show: get in the kitchen, get your mise en place ready and ensure cookbooks are in the background. You need to look the part!
Think Before You Shoot!
Most PCs these days include a web camera. (My Toshiba laptop includes Camera Assist.) So there is no excuse, you too can get into the film industry! But before you shoot, just watch your camera settings:
Adjust your frame rate appropriately as it impacts the quality and size of a video file. (The frame rate is the number of frames or images that are projected or displayed per second. Typically, in the US, 30 frames per second is used for TV.) The higher the frame rate, the better the quality, the larger the file. In my camera settings, I have found the maximum rate of 30 frames per second is adequate, (just be patient when uploading your file).
Compress your video files into a smaller file size. Luckily, in my camera settings I didn't have any fancy options: only 'no compress' or 'DV (digital video) video encoder'. Selecting the encoder compresses my video which speeds the upload process. You may have other encoder options which may require some research: the net has lots of techno-babble on AVI files and type 1 and type 2. The important thing to remember is to compress your video file.
Setup your lense to flatter whatever you are shooting. Think like a photographer: Don't be afraid to move around. Ok, I know you are using your PC, so don't be afraid to move it around from it's usual spot: you may have to angle or elevate it.
Now it is Show Time!
Your set is ready and your camera is all set… You are ready for the actor in you to shine on the screen. Just a few reminders:
Smile.
Don't rush. Plan enough time upfront. You may need multiple takes.
Don't think about talking to 1000 people: talk to 1 person and your personality will shine through.
Personally, I find it is easier to be videotaped in the traditional manner, using a video camera, rather than using the built-in video camera from a PC. I don't like to see myself as I am being taped. What helps me is covering up my computer screen with a hardcopy print out of my script (or my general outline of my script). You may want to try that so you don`t feel uncomfortable or obsess with a hair that is out of place.
"That's a Wrap!"- Next Steps
Take your time on your first video.
Test out the video and audio settings, especially the lighting and the volume settings.
Reshoot as necessary. Just remember you may only get one chance to impress a potential follower.
Open up a YouTube account if you don't have one. Then start to upload your video: this could take some time depending on fps (frames per second) and compression.
Don't forget to set up and customize your YouTube Channel to reflect your personal or company Brand. If you need help with that, see Customers While you SLEEP
Then all you have to do is to promote your YouTube video… but that is a whole subject onto itself.
The Quick Review
You may not get nominated for an Academy Award®, but your secret to fast success will be to:
Think like a screenplay writer,
Consider your set,
Set-up your camera settings and location,
Be yourself and talk to ONE person just like a documentary,
Initially (and continually) try out new settings and techniques.
Now you can create videos and leverage YouTube.
Your content will be more appealing to more people.
Your Google (search) ranking will soar.
Your content will be found in the second most used search engine.
.


Anne Cauley is an accomplished trainer known for 'training that sticks'. She combines her sales, training, process re-engineering background with a passion to be an agent of change. Experienced as a technology advocate, it is no surprise that she is embracing social media. Her blog is filled with pragmatic advice on how to develop, deliver, analyze and improve training efforts. Find out more about Anne on her blog, Facebook or Twitter.

*Photo by Alejandro Peters
Tags: Anne Cauley, cameras, Content Creation, guest post, location, making videos, making YouTube videos, setting, videos, Youtube, Youtube Videos