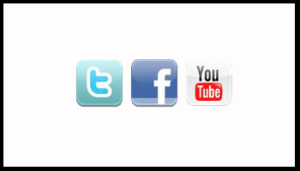 You'll often hear social media folks talk about linking from social media sites to your main website. It is important to have a link back to your site from Twitter, Facebook, YouTube and LinkedIn.
But it is also important to link to these social media sites from your main business website or blog.
Linking out to your social media presence can drive engagement
People may prefer to engage with your business on Twitter or Facebook rather than your website.
Let them.
Having links on your site to your social media profiles also signals that you are up to date with your internet presence. Consumers are increasingly savvy at detecting if a company is outdated.
Putting the links on your site
It's best to start by adding links to your website along the side, bottom or top of the site. I would suggest that you use icons and graphics if it makes sense for the design of your site.
Logos from YouTube, Twitter, LinkedIn, Facebook and other sites can also act as a psychological trigger in visitor's minds. It gives you instant credibility since these sites are already used and trusted by millions of people. Subconsciously, your visitors will associate your site with these high profile sites.
A good strategy for linking to social media
To make it easy for you, I've included some graphics for you to take and use on your website.
Take these logos and have your webmaster place them on your website. Be sure the placement makes sense from a design perspective. Then link the graphics to the corresponding URL.
For example, the Facebook URL for Folk Media is Facebook.com/FolkMedia
So we linked our Facebook icon to this address.
You probably have more than three social media profiles. We also have a Flickr photo profile, but we don't include that in our logos on our site right now.  You need to think about your audience and what makes sense for them.
Action step: Get all the links and icons together to give to your webmaster
Spend the next ten minutes collecting all the links for every one of your social media profiles. Create a list that you can give to your webmaster. Feel free to download the graphics above and use them on your site.
Now go take action.
.
Joel Mark Witt is the Publisher of Folk Media and author of 21 Days To Twitter Leadership. He is a producer, author, and speaker who consults with businesses and nonprofits on how to use social media in marketing and communications. Get more from Joel on Twitter or Google Buzz.
.

Tags: graphics, linking, logos, social media profiles