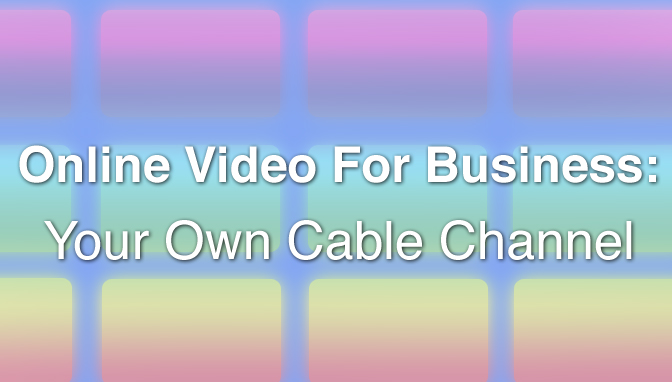 What if your business had its own cable channel to program? My friend Michael Hoffman often asks this question when talking with people about online video. And he's right to ask.
Let's suppose I hand you the keys and control of a 24 hour cable TV channel. I then tell you that your business is free to program that channel with any content that you want. Would you place your 30 second TV ad on a loop all day? Would you play your corporate training videos? Would you place a static screenshot and bullet point list of what your business does?
Of course not. You would be wasting a valuable asset if you were to do any of the above. I would guess that most CEOs and small business owners would have no problem using a free cable channel to market and promote their businesses. With the price of TV spots in the millions of dollars, almost everyone understands the value of this kind of exposure.
As a CEO if were handed a free cable channel to program, I would immediately hire a small video production unit to begin producing original content centered around my business and industry. I would spend time developing compelling shows along with how-to videos that could draw in my target audience.
For example, if I owned a seafood product company, I would create several cooking shows for my channel. The goal of these would be to give my audience value while subtly marketing my products. Outdoor sports channels do this all the time. They sell fishing products during fishing shows.
"But no one is handing me and my company a free cable channel to program," you say.
Actually you have been handed a free "cable channel" ….
… Your website.
With your website you've been given a channel to program with complete freedom. You don't have the time constraints of an actual cable channel. You don't have to rely on the cable operators to deliver your content. Your videos have an infinite shelf life. People can share your content with a global audience at the click of a mouse.
So I would recommend you begin thinking about how your business is goign to "program" this asset in the 21st century. Look at your website as a channel – not as a place to put your contact information. Begin thinking about the needs of your customers and how you can meet some of those needs using online video and media.
Does this take work and effort? Yes. But it is worth it in the end with the customers you will attract.
Joel Mark Witt is a producer, speaker, and new media leader who writes about social media and its impact in the business world. He is also the Founding Director of Folk Media. Send him an email: joelmarkwitt (at) folkmedia.org or follow him on Twitter.
*Photo by
Tags: internet video, online video for business, small business marketing, Web Video