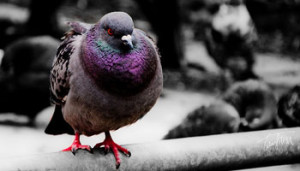 Personal branding includes finding ways to stand out among the crowd. I already wrote about becoming a rockstar. Here are five quick ways to stand out online in a sea of other voices.
1) Promote other people
I hear the fastest way to a man's heart is his stomach. (For all the women out there who would like to cook for me, the previous statement is indeed true 🙂
Well in the same way…
…The fastest way to a blogger's heart is making comments and helping to promote their blog. If you do this consistently, you will be seen as an ally. You will stand out from the crowd. Read about my concept of having a Target 10 here.
2) Make and post videos
There are a lot of people who simply will not get in front of a camera. Do it and you'll instantly stand out from them online.
3) Know thy customer or audience
The more you know your customer the better. You need to cater your content to your community.
4) Post every day
I can barely find enough good information. I can find plenty of information – just nothing good. And the ones who do have good stuff post once a week or less. I forget about them.
Don't fall into this trap. I used to tell people that posting to their blog was sufficient. I've completely changed my opinion on this and now say that unless you are posting at least once each weekday – you aren't serious about growing your business online.
Post each day. Make a schedule so that you can determine what you will write about ahead of time so you don't get writer's block.
5) Write How To content
Another thing people want is specific how to content. If you post one "how to" article each day (and it's good), then you WILL stand out online. And please don't mess around with ambiguous or cute titles. Be freaking direct please.
Today's Action Steps
First, if you found this article helpful – please share it with people who would benefit from reading it.
Second, write down in the comments the technique that you will implement today. Sketch out how you will stand out online.
Now go take action.
.
Joel Mark Witt is the Publisher of Folk Media and author of 21 Days To Twitter Leadership. He is a producer, author, speaker and social media marketing coach who consults with businesses and nonprofits on how to use social media in marketing and communications. Get more from Joel on Twitter or Google Buzz.
*Photo by TMAB2003
Tags: Blogging, Joel Mark Witt, Personal Branding