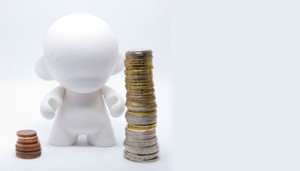 Personal branding does not mean that you should act like a company. Personal branding also doesn't mean that a company should act like a person. It means being yourself – being conscience of who you are – and knowing what you stand for. It's also important to become a person of value.
Personal branding
The goal of personal branding is to be seen as a person who adds something to others. Sounds simple but let me tell you a story.
I was in Best Buy ready to buy a hard drive a few months ago. I was out of storage space and because I shoot a lot of video I needed extra space for my files. The sales guy was showing me a few models on the shelves. As I asked him some questions he realized that I needed a drive that could write video files more quickly. He made a recommendation of the type of drive I should get. I agreed and asked where I could purchase.
"We don't sell them here," was the response. I was confused. Why would he tell me about a drive they didn't carry. He went on to explain where I could find the product online and even wrote down the web address for me. He was hurting his own business by recommending a drive they didn't carry. But he became someone of value to me.
Contrast this example with the slimy salesperson who doesn't have your best interest in mind. You can tell from the outset that they only want to "sell" you. How does that make you feel?
Pretty awful. But when someone offers legitimate value – you feel grateful.
Your personal brand should set you apart and get people talking
When you are a person of value, you set yourself apart from your competition. We already talked about knowing your stuff. Now become the person who gives freely.
There is no limit to how much you can give. Seth Godin writes about becoming a person of value in his book Linchpin. It's a great book about making yourself indispensable. Of course I think it's a book that cuts to the heart of personal branding.
When you become a person of value you get people talking. Word of mouth referrals can be a huge indicator of your future success in business. People that know you have value to offer will freely recommend you to friends and colleagues.
So how does this all apply to Internet marketing and social media?
Business is tough these days. You have to find ways to leverage your resources and make them go further than ever before. Here's a few tips when growing the value of your personal brand:
Give away helpful advice – Literally give away some of your best stuff. Seek out people to help and give, give, give. The internet makes this easy to do
Connect people – regardless if it will directly benefit you or not. Be the connection point between people. When someone mentions that they are looking for a product or service, offer to connect them with someone you know who provides it. Use your social networks to scale this.
Increase your own value – by reading, studying, learning and experimenting. Look to better yourself and become a person who has so much value that you're in demand.
Think about the person who adds the most value to your life. What is it about them that's valuable? Do they make you feel empowered and confident? What can you learn from them and apply to your own business?
Today's action step
Practice giving of yourself. Seek out ways to help three clients or prospects this week. Even small gestures of value can make a huge impact on your personal brand.
Here are a few ideas…
Clip a magazine article that pertains to a prospect's business and send it to them with a written note.
Make a connection between two of your clients or customers. Introduce them and suggest they do business together.
Offer to write a recommendation for a few of your customers or clients. You could even do this on LinkedIn.
This article is part of the Internet Marketing Basics series where we cover the fundamentals of internet marketing and social media.

.
Joel Mark Witt is the Publisher of Folk Media and author of 21 Days To Twitter Leadership. He is a producer, author, speaker and social media marketing coach who consults with businesses and nonprofits on how to use social media in marketing and communications. Get more from Joel on Twitter or Google Buzz.
*Photo by masochismtango
Tags: Internet Marketing Basics, Joel Mark Witt, Personal Branding