Doing the hard work of content creation
Content creation is tough. It's hard to consistently come up with valuable things to write about for your audience. But it's important that you have a clear idea of how to generate content on a regular basis.
Consistent content helps your blog get found, gives your regular readers something to consume and helps you build a library of useful information.
Here's a great tip to think about content topics right now.
Take the top 15 problems your customers are having. List these out and describe them in detail with specific actionable solutions for each one.
Write down the top 15 benefits a customer gets from doing business with you. Be specific.
List the top 15 frequently asked questions.
Write down the top 15 mistakes you see your customers making.
If you do this you'll have 60 topics ready to go for your blog, videos, podcasts or email newsletters.
Today's Action Step
Using the list above spend the next ten minutes writing out these lists and come up with your next 60 topics for content on your blog.
Now go take action.
.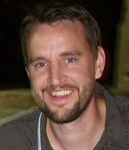 Joel Mark Witt is the Publisher of Folk Media. He is a producer, author, speaker and social media marketing coach who consults with businesses on how to use social media in marketing and communications. Get more from Joel on Twitter.
*Photo by JohnEdgarPark
Tags: Content Creation, Joel Mark Witt, tips