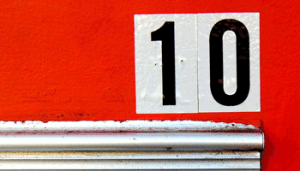 Ten minutes doesn't seem like a lot of time, but there are many social media activities that you can accomplish for your organization in under ten minutes.
It is true that a well executed social media strategy does involve effort and time, but there are ways to leverage that time and work in bursts to help you get more accomplished.
To get you started, here's a short list of social media activities you can do when have only 10 minutes.
Check your Google Analytics – look at the keywords and sites that are sending traffic to your blog or website.
Outline a blog post – I actually outlined this blog post based on the question… "what can I do with 10 minutes right now?"
Write a tweet or two – write out a tweet that adds value to your followers. Use Hootsuite to schedule tweets in the future.
Retweet a valuable message – retweet something someone else wrote to add value to your followers.
Search for your business on Google – literally type in variations of your business name and see what results you get.

Reach out to one person on linkedIn – Find a past or present colleague on LinkedIn and connect with them.
Review your LinkedIn profile – flag any areas that need attention and put on a list to correct later when you get more time.
Answer one question on LinkedIn – spend time finding questions in groups and answer one of them. Be helpful and don't promote your business directly.
Update your plugins in WordPress – if you are using WordPress, spend ten minutes updating your plugins to the latest versions.
Brainstorm a list of future blog topics – create a speed list of at least 50 future blog post topics.
Download a new marketing podcast on iTunes for the ride home – your commute will go faster and you'll learn something new.
Post a comment on another blog – creatively and thoughtfully comment on another blog. Don't just say "yes I agree." Add value to the post by offering more advice or perspective.
Submit a website to a bookmarking site – submit a friend's post or site to Stumbleupon, Digg, Delicious or another bookmarking site. Spread the love.
Recommend someone on LinkedIn – help set up a friend or colleague for future work or employment by giving a kick-butt recommendation that highlights their professional accomplishments.
Go through your @mentions on Twitter and favorite the best ones – these should be Tweets where others say good stuff about you or your company.
Search for a photo for a blog post – spend ten minutes on Flickr or iStockPhoto and search for a photo for a blog post you are writing.
These are just a few ideas for you to consider the next time you are faced with ten minutes to spare. Social media can sometimes feel like a time suck. Don't let it get the best of you. Pace yourself and engage when you can. You'll be surprised how much impact you can have with simple ten minute tasks.
What social media activities do you focus on when you have ten minutes to spare? Leave a comment below and let us know.

.
Joel Mark Witt is the Publisher of Folk Media and author of 21 Days To Twitter Leadership and How To Use Social Media To Find A Better Job. He is a producer, author, and speaker who consults with businesses and nonprofits on how to use social media in marketing and communications. Get more from Joel on Twitter.
.

* Photo by Darwin Bell