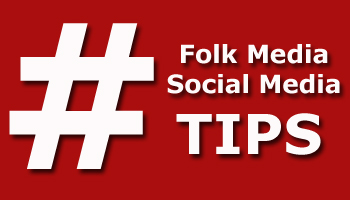 Here are the tips that we posted this week on Twitter about using social media for your non-profit. You can use Twitter Search to look these up. We used the hashtag #nonprofit to track the conversations. For the future – follow @FolkMedia to stay up to date with online Twitter discussions and tips.

How recent is your online #nonprofit content? Be sure to keep your blogs – Facebook pages and Twitter updates current.
A good rule of thumb for #nonprofits is to post about 1-3 tweets per day.
Take some time today to write about the importance of your #nonprofit social media plan. It will remind you and your team why you are here.
Measurement is the key to showing #nonprofit executives & higher ups the value of social media. Measure everything.
If it can't be measured it doesn't exist. This goes for all social media in your #nonprofit.
Have you signed up for the free Folk Media Insider Newsletter? It's full of business & nonprofit social media strategy http://ow.ly/53k1
The power of twitter for your #nonprofit is listening and searching. Use Twitter search. See our FM sample here http://ow.ly/52JP
Try an online social media press release for your #nonprofit. Check out @PitchEngine: http://ow.ly/52Kv
Social media allows #nonprofits cheap & free ways to spread the word – gain donors – and get feedback. Remember – "free" does cost.
Just like a good PR campaign – it makes sense to have a well crafted twitter plan for your #nonprofit.
What is one thing your staff could do to hit home the need for funds when talking with your #nonprofit constituents? Use SM to talk about it.
Question: What is one thing you could be doing for your #nonprofit to raise more funds online?
Use social media to showcase you #nonprofit staff. Most of them are not at your organization for money. They crave kudos instead.
Think about a spot in your #nonprofit office for a small studio. You can use the space to shoot update videos & interviews.
Think of your #nonprofit as a media channel. Don't rely on traditional media – make your own.
Use the web to get out the word about your #nonprofit. Use video – audio – photos. Think beyond the press release.
Don't lose sight of using Twitter to build good relations in your community as a #nonprofit.
Social media lends itself to be used by #nonprofits more than any other business or organization.
Use Twitter to publicly recognize volunteers in your #nonprofit. People love acknowledgment.
#Nonprofit is your legal tax status – not your business plan. Donors are key & social media can help you reach them.
For your #nonprofit "dinner video" for this year – What are you doing to be creative?
Have you considered skipping this year's #nonprofit "dinner video" and instead create a series for YouTube videos over time?
Twitter isn't for every #nonprofit. Be wise when using social media. It's not for every organization.
What are you doing this week for your #nonprofit that is different from similar or competing organizations?
#Nonprofit volunteers: be sure that your personal tweets & profiles don't embarrass or cast your organization in negative light.
Does your #nonprofit take donations online? If not – why? You can start right now with PayPal. http://ow.ly/534T
One of the biggest obstacles #nonprofits face is showing the Executive Director the value of social media.
#Nonprofit directors want proof that social media works. Give them proof and stats.
Also – be helpful with your #nonprofit Twitter posts. Don't just tweet out events and news.
What is the one thing you can do right now to spread the word about your #nonprofit? Do it.
Social media can seem daunting – it's one more hat to wear at your #nonprofit. Spread the work.
Would you like your organization featured on our @FolkMedia list of social media #nonprofits? Let us know.
Consider building a lens for your #nonprofit over at Squidoo. http://ow.ly/53dm
Spend the time to practice social media and learn the language and methods. You #nonprofit will thank you.
Be human. #Nonprofits are made up of people – not robots. Remember people give to people not organizations.
#Nonprofit Tip – segment nonprofit social media tasks to staff – volunteers – and interns. The goal is to free up your time.
What non-profit social media tips would you add to this list? You can post them below in the comments or join the discussion in real time on Twitter.
Subscribe to the Folk Media Insider eNewsletter. It's a free monthly newsletter packed with tips, tools, strategies and resources to take your business to the next level online.