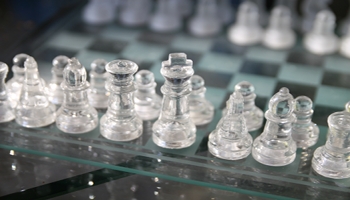 "Success, both in business and personally, is something that's consciously created." – Robin Sharma, The Leader Who Had No Title
Today's culture revolves around titles and accolades, accomplishments and scoring the best accounts. We see celebrities praised for blockbuster movies and athletes remembered for show-stopping plays. Society is obsessed with achieving greatness and spending the most money.
"Leaders" are no different. Those in management tend to think that fancy cars and corner offices are the life. Dinners purchased with company credit cards and international business meetings give off impressions of leadership and success.
But true leadership involves nothing mentioned above. In fact, no one needs a title, or fancy car or wads of money, to be a leader. They just need passion, determination, and a commitment to make the world a better place.
Over the next few days, I'm going to be sharing with you how to manage your social media campaign like a true leader. The concepts in the series will be pulled from Robin Sharma's The Leader Who Had No Title. You need no title to be a great leader. You don't need to be chief social media marketer or manager of the IT department. If you are determined to change the lives of others, this is for you.
You and your social media campaigns can have an impact on the world; you just need to unlock your inner leader.
The Title Conundrum
Our culture is obsessed with titles. The person with the best or highest ranking title is usually considered the "winner" and will get praise solely the few words that follow their name. However, titles undoubtedly lead to trouble. When a person is given a high ranking title, they put themselves above everyone else. Instead of being the leader they are called to be, the employee walks around like a king or queen, expecting everyone else to wait on them. All of this because of a title.
Leading without a title means that you put away the notions that one person is better than another and you work to benefit others. You are humble in your daily work routine. Instead of serving yourself, you serve others. Your vision of the world is not clouded by thoughts of self; instead, you think about how you can help the world.

No Title = No Limits
One of the first objections people normally have to the leading without a title concept is the perception that if you have no title, you won't get the glory and money and benefits of the "titled" positions. This is not the case. In fact, it's about the furthest from the truth that you can get.
If you are good at what you do, people will notice. If you continue to be good at what you do, people will praise you. If you consistently go above and beyond in the workplace, you will receive accolades that will make others jealous. Your determination means and willingness to help others will set you apart from even the people who have the big titles. Do you know why?
You are committed to making the world a better place, which is something that most corner office residents don't even think about.
When you have no title, there are no limits on what you can do.
Leading Without A Title in Social Media
Now that you have an idea as to how you can begin to unleash the true leader within you, let's focus on how you can apply the leader without a title principles to social media and marketing.
First, put your customers and clients before your business needs. Want to impress your clientele? Bend over backwards to serve them. Bring them customer service like they've never seen. As Seth Godin states in Linchpin, "Customers…crave the unique, the remarkable, and the human." Deliver them something that they can't get from another company–above and beyond loyalty to their needs.
Next, offer your help and expertise to those who want to learn. You are a knowledge base full wonderful thoughts and ideas. Don't hold them inside; instead, share them with the people in your industry who need them the most. Ideas are copyrighted. Be diligent in serving others because they will return the favor when you need it the most.
Finally, put your new and innovative ideas into motion. Have you figured out an easy and simple method for creating customer Facebook pages of Twitter backgrounds? How about an easy to use program that notifies you whenever someone mentions you on Twitter or writes on your fan page wall? If you have a great idea for process improvement or making your industry thrive, go for it. As a leader without a title, you're more concerned about the well-being of the world itself than just yourself. Share your resources, ideas, and passions with others.
Action Items
It's time for you to begin leading without a title and having a greater impact on the the world. Here are a few action items for you to do today:
List three ways that you can serve your current customer base. How can you "wow" them? What needs could you meet that you aren't addressing right now?
Join a LinkedIn Group or message board in order to help people in an area where you are strong. Good with Macs? Join the Apple users group. Really good with web programming? See if you can help solve some code problems on a forum.
Tease out one idea you've been holding inside for a long time. What do you need to do to set it in motion? Whatever it is, do it.
As always, please share this article on the social networking site of your choice. Also, if you haven't connected with us on Facebook or LinkedIn yet, come join us.

.


Eric Alpin is the Associate Editor of Folk Media and works for a telecommunications company in Baltimore, Md. He is a social media enthusiast, blogger, writer, and student with a passion for leadership and self-development strategies and techniques. Find out more about Eric on Twitter.

*Photo by pnijhuis
Tags: eric alpin, leadership, Leading, leading with no title, linchpin, Robin Sharma, Seth Godin, Social Media 101, social media leadership, the leader who had no title