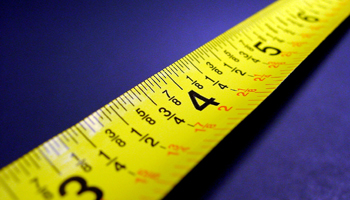 What separates someone who claims to be a social media expert and one who actually is a social media expert? Social media marketing metrics.
Metrics are the lifeblood of marketing in our fractured and currently unstable economy. Without a target and measurement system in place – you are dumping your social media dollars into pots of dimly viewable sewage water.
As a business owner or professional – please be wary of those "social media experts" who tell you that the value of social media can't be measured.
Bull crap.
I am under the conviction – that if it can't be measured – it doesn't exist. This year (2009) you are going to see a lot of companies wake up and realize that they have to justify the dollars they are spending in social media. Yes social media seems low cost and "free" at times. But to do it right takes investment – both time and money.
With business investment comes ROI tracking and measurement. Simple business and marketing principles still apply and no amount of social media hype will be able to persuade smart marketing folks in the future to abandon these.
Your business can and should be tracking how your social media efforts are playing out. There are tools available now and more coming in the future that will enable you to track results from your campaigns and online communication strategies.
There are some really smart companies who get this whole measurement thing. Tubemogul in the video space, Google in the  site analytics space, Hootsuite in the Twitter realm, and Facebook does a great job in monitoring activity on business fan pages.
For those of you wanting to start right now – here are some ideas for tracking your social media strategies.
Set up a monitoring systemSocial media starts with listening. Listen to the current conversation before you begin talking. This is the first step in measuring. Measure what is already there. Using tools like Twitter Search and Google Analytics is a great start. Hootsuite will allow you to shorten your Twitter URLs and then track the number of clicks they get. Facebook allows you to see fan page hits and demographics for your users.
Decide on messaging & monitor responseWhat is your core business message? Starbucks –  for example – puts out the message that no matter your income level – you can have an exotic $4 latte that will make you feel good. Starbucks sells a little luxury during the normal workday. Your company has a core message also – what is it? Be sure to have your employees know and understand this for when they respond on the social web.
Tag team the responsesBy having your employees understand your messaging platform – you empower them to help monitor the chatter that is happening online. Responding is key to conversation. If your company doesn't respond in a timely fashion –  you are missing out on the power of social media. Delegate to other staff members and have them help with blog posts – Twitter posts – and Facebook comments.
End at the beginningBookend your strategy with a monitoring system. Continue to follow through on conversations. Tweak your messages based on click-throughs and comments.
In the early days of social media, measurement was difficult and viewed by some as unnecessary. Today the viewpoints are changing. If you are a business owner or director of marketing – you know that guesswork doesn't work. You must have a systematic and measurable process for social media marketing.
In the coming weeks we will revisit this topic and post about specific techniques you can employ to market on the social web. Let us know what questions you have by commenting below or on Twitter.
Joel Mark Witt is a producer, speaker, and new media leader who writes about social media and its impact in the business world. He is also the Founding Director of Folk Media. Send him an eMail: joelmarkwitt (at) folkmedia.org or follow him on Twitter.
* Photo by Darren Hester
Subscribe to the Folk Media Insider eNewsletter. It's a free monthly newsletter packed with tips, tools, strategies and resources to take your business to the next level online.
Tags: marketing, measurement, Metrics, Social Media 101