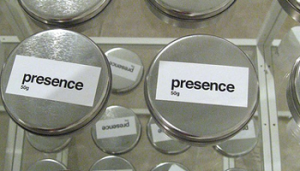 We've covered social media strategy in the past, but in this article I'm going to dive deeper into the subject of having a presence in the social media world.
No one can talk to you if you aren't in the room
Some have suggested that it is best to think of social media as a giant party. If you are saying to yourself, "wait a minute, I want to use social media to do business. I can't do business at a party," then you're on the right track.
Social media, much like a party, is a great way to meet people and build relationships that can BECOME business opportunities.  The problem is – you actually have to show up to "the party" in the first place.
Enter PRESENCE
Having a "social media presence" means simply that you have profiles and accounts on various social media platforms. Accounts are easy to set up and can be done in a matter of minutes.
The goal is to have a presence on every social media site that can offer you a return on the time investment it will take to be there. For example, if you are a B2B company that sells to C-level executives, you may find that your audience is more likely to be on LinkedIn over MySpace. It would be crazy for you to significantly invest your time and effort into a MySpace profile.
The reverse is true if you are a music band. Spending time releasing your songs on LinkedIn would be foolish. MySpace would be the better choice.
The moral of the story is this…
Set up a few accounts and establish a PRESENCE in places you feel your audience gathers. If you are stuck on where to start I think 99% of businesses won't go wrong by setting up accounts on the big three: Facebook, Twitter and LinkedIn.
Start with a personal presence on each of these sites first, then expand into a business presence. You need to use social media on a personal level before you can effectively use it for your business.
Nuts and bolts of establishing your presence
Let me be clear – don't go out and set up 10-20 social media accounts. Take the time to set up three. Once you have a handle on them, then you can branch out.
I would recommend you set up accounts in this order:
Facebook – over 400 million people use this service.
LinkedIn – business people respect it, even if they don't use social media.
Twitter – the growth of Twitter continues. Everyone from actors to journalists to politicians are using it.
As you spend time setting up accounts, I recommend you keep a spreadsheet of all your usernames and passwords. Start this now and as you grow your social media presence add to it. This will keep you organized in the future as you scale things.
Today's Action step: Set up your first profile
Start by opening your next social media profile. If you've already started a Facebook account, spend time right now setting up your LinkedIn profile. If you have a Facebook and LinkedIn account, Twitter is next.
The goal is to get a presence for your business on these three major social media sites. In the near future I'll walk you through the next steps of engagement, relationships, influence and measurement/maintenance.
Now go take action.
.
Joel Mark Witt is the Publisher of Folk Media and author of 21 Days To Twitter Leadership. He is a producer, author, and speaker who consults with businesses and nonprofits on how to use social media in marketing and communications. Get more from Joel on Twitter or Google Buzz.
.

Photo By enuwy
Tags: presence, social media profiles, social media strategy