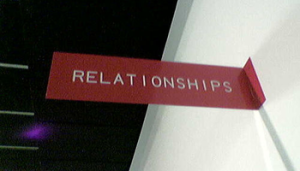 As I've mentioned before, when you engage people natural relationships form. Forming relationships is very important, but there needs to be a good balance. If you use social media for the sole purpose of making friends, you aren't doing your business any good. If you use social media only to meet people so you can market to them, you aren't building a community of friendly customers and prospects.
You have a business and you're looking for prospects and customers. But you need to be willing to develop relationships beyond the prospect level without neglecting your core reason for doing all this in the first place… lead generation and finding new customers.
Here are a few tips to navigate the choppy social media relationship waters.
Be real
You can't connect with people by hiding behind an anonymous blog persona. I see many business people hide themselves online. Some folks post no profile pictures, they don't use their real name and don't include a physical address or email. The best they offer website visitors is an impersonal contact form.
You can do better than this. Be a real person – online.
Be available
Once you present yourself as a flesh and blood homo sapien it is important to make yourself approachable. You can do this by asking for blog comments and feedback. Invite people to email or message you via social networks like Facebook and Twitter. Also be willing to grant interviews (no matter how small) and advice and support to anyone that asks.
Be upfront about your intentions
Make it clear that you are online to do business. I do this with Folk Media. I hope that we are giving you as a reader so much value from all the free trainings, teleseminars, resources and advice that you buy our stuff.
Do the same in your business. Make it clear that you are there as a real person and you are available for a professional relationship. But also make it clear that you are running a business. People will appreciate the fact that you shoot straight and don't cloak your intentions.
The key to online social media relationships is to make it easy for people to reach out and connect with you. Of course, you'll have to reach out to others as well. But follow these tips above and you will have a much easier time building online business relationships.
Today's Action step: put a face to your business
Take a few moments to evaluate your online profiles and business presence. Is it clear that humans are behind what you do? Does your business have a personality or is your website another corporate looking faceless site?
Be sure to make it easy for people to call, email and visit you. Upload a few real photos of real people that work with you.  Make it clear that you want professional relationships with your prospects.
Now go take action.
.
Joel Mark Witt is the Publisher of Folk Media and author of 21 Days To Twitter Leadership. He is a producer, author, and speaker who consults with businesses and nonprofits on how to use social media in marketing and communications. Get more from Joel on Twitter or Google Buzz.
.

*Photo by Beatnic