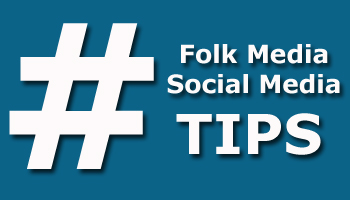 Here are the tips that we posted this week on Twitter about using social media for your business. You can use Twitter Search to look these up. We used the hashtag #business and #socialmedia to track the conversations. For the future – follow @FolkMedia to stay up to date with online Twitter discussions and tips.
What is something your business can do this week to educate you prospects using Twitter? Do it.
Twitter Business Tip: Every company that is on Twitter should tweet a ""tip of the day." It is easy and helpful to your followers.
Twitter Business Tip: Make a list of your social media time drains. Cut the bottom 80% that do not produce results.
How much time each week do you spend on social media marketing & PR for your business?
Twitter Business Tip: How can you think beyond Twitter and online social media when connecting with your audience online?
Twitter Business Tip: Use twitter to listen to conversations.
Never never ever underestimate the current and growing power of email. ALL of your business prospects have email accounts.
Imagine having the superpower of being able to listen to peoples' conversations around the world in real time. It's called Twitter Search. Use it to see what's happening — right now.
Check out what #journchat is doing on Twitter and how they are using it to host discussions. What could your business host?
Twitter Business Tip: Think of your business Twitter account as a connector. You don't need to have all the answers – just link to them.
Twitter Business Tip: Remember – wealthy people invest in relationships. Wealthy businesses are NO exception.
Twitter Business Tip: What can you do online to help further the career of a colleague or staff member today? Do it.
Has your business considered holding a press conference only for Twitter users in your industry? Treat them like NYT reporters. You'll be surprised at the results.
TIP: Send one email per week to your VP or CEO with a summary of Twitter activity and stats. It will keep it top of mind for them.
Business Twitter Tip: If you are a CEO – be human. You need to protect your time – but it helps to converse with Twitter @ replies
Your @ reply area on Twitter misses a lot of @ mentions. Use Tweetbeep to catch all @ mentions for your business.
@joelcomm wrote a good book on getting started with Twitter called "Twitter Power"  http://ow.ly/6haU
Social Media Business Tip: Metrics are everything. Check out @ImpactWatch for social media monitoring http://ow.ly/6h4o
Twitter Business Tip: Your business needs a reason to use social media. Without a reason/plan your wasting your time.

What is it about Twitter that screams "broadcast" in the ears of business professionals? It is broadcast AND a conversation.

Twitter Business Tip: Twitter is a platform. Your business needs to brainstorm come and revenue models to build on top of it.

Twitter Business Tip: Use Tweeteck (http://ow.ly/6fGu) to have keyword alerts pop up on your desktop during the day.

Twitter Business Tip: Each company brand can have it's own twitter profile.


If you are an Internet company – don't loss sight of the value of a good old fashioned sales letter. Aka – snail mail.
What  social media business tips would you add to this list? You can post them below in the comments or join the discussion in real time on Twitter.
Subscribe to the Folk Media Insider eNewsletter. It's a free monthly newsletter packed with tips, tools, strategies and resources to take your business to the next level online.