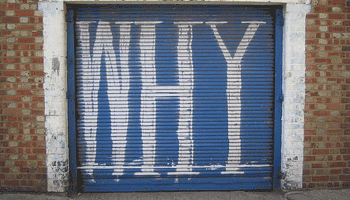 Most of the time, people take action based on instinct, not thought.  We see it all the time and are not innocent ourselves.  We have all performed an action or completed a task without stopping to think of the benefits or purpose.  To sum it up, we wasted our time.
However, there is hope for us.  Our hope lies in one question – Why?  It may sound simple, but asking "Why?" can lead to a new line of thinking and direction, especially when you are discussing social media for businesses and non-profits.  Why do you have a Facebook fan page?  What purpose does it serve to have multiple Twitter accounts or LinkedIn job postings?  What is your intended audience and why?  Such questions don't often have easy answers but they can make the process flow more efficiently.
David Allen, a best selling author, discusses the "Why?" factor in his book, Getting Things Done.  Allen states that asking "Why?" has many perks, including:
Defining success
Creating decision-making criteria
Aligning resources
Motivating
Clarifying focus
Expanding options*
Unfortunately, all of our missions and undertakings in life aren't successful on their own.  Thinking is required to make them work, no matter how hard we try to tell ourselves that is isn't.
When you are trudging through the worlds of Twitter, Facebook, LinkedIn, and YouTube, continually remind yourself of why you are using social media.  What goals do you have for your social media accounts?  Why are you serving your customers online?  What are you looking to reap from your online presence?
Considering this simple question may be the key to moving your brand or business into the world of social media.

Eric Alpin is a social media enthusiast, blogger, creative genius, and avid reader. Eric enjoys maintaining his website, ericalpin.com, editing and shooting video, reading, hanging out with his friends and girlfriend, and playing sports. Eric works full-time for a telecommunications company in the Baltimore, Md. area and is currently seeking his Bachelor's Degree in Communication Studies. Follow him on Twitter or Facebook.
Get the book "21 Days To Twitter Leadership" The Step-By-Step Guide On How To Twitter, Get Twitter Followers And Position Yourself As The Leader In Your Industry In Less Than 10 Minutes Per Day.
*David Allen, Getting Things Done, Penguin Books, 2001, p. 63
Tags: Business, David Allen, eric alpin, Getting Things Done, nonprofit, Social Media 101