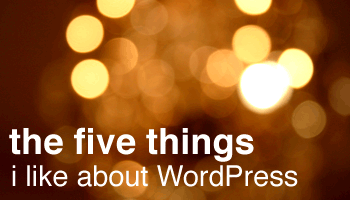 WordPress is one of the premiere blog publishing applications available to you. It's free and worthy of your time. I've decided to make a short list of 5 of its strengths. I assure you that my enthusiasm for this application does not mean that any money has exchanged hands (though that would be welcome!)…
1) Powerful – WordPress is a tremendously powerful system. It comes with a wide range of features as well as the ability to download user created plugins to give you new ones. If you're up to the task you also have the opportunity to modify your blog's code without the need of using another program.
2) User-friendly – All the power in the world doesn't matter to the average blogger or advertiser if the system is unintuitive. Fortunately, as poweful as WordPress is, it's just as user-friendly. With the recent 2.7 update the interface was reimagined and improved upon. It's organized in a natural way that takes as few clicks as possible to get you where you want.
3) Widgets – Widgets are a wonderful way to quickly add new features to your website. For example, a calendar that keeps track of which days you've posted… or even a mini-flickr gallery.
4) Plugins – Plugins are probably my favorite aspect of WordPress. These handy programs seamlessly install into your blog and give you any number of new features. There are a ton out there, see for yourself. WordPress will even automatically notify you of any updates and give you the ablity to seamlessly upgrade  – there's no need to search the internet for the newer versions of your plugins.
5) Great Support – You'll never be alone or without help. There are new WordPress updates coming out on a regular basis. The official website provides a wealth of helpful documentation (not to mention the countless bloggers out there doing the same).
Tags: why use wordpress, wordpress for business bloggers, wordpress things