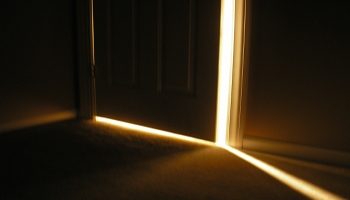 A fair number of people tend not to do something unless they are rewarded in some way.  They want to get compensated for their efforts or at least get a small token of appreciation.  Unfortunately, Facebook and Twitter don't hand out rewards to their subscribers simply for using their service.  Although nothing tangible is given, there are still a few reasons why embracing the Web 2.0 culture isn't such a bad thing.
1.    Get connected.
Fact: In 2008, 1-in-8 married couples met via social networking websites. (Qualman, 2009)
Every human since the dawn of time has yearned to be part of a group and to connect with others.  Connections create communities.  Hoffman notes, "A community, whether virtual or real, is defined by the relationships that exist between its members." (5, 2007) The components of Web 2.0?blogs, Facebook, iTunes, news feeds?are quick and easy ways to connect with others. (Barbaro, 2008) The world isn't slowing down and it's becoming tougher to create and maintain relationships.  Stay in touch using Web 2.0.
2.    Break loose.
Fact: There are approximately 37,500 new blog posts written each hour (or 10.4 posts per second) (LIS Education 2.0 Project, 2009)
Web 2.0 allows for a person to break loose from typical day-to-day activities and move into a different, and exciting, culture.  A person's day no longer needs to consist of simply going to work, sitting in traffic, and grabbing McDonalds for dinner.  With the resources of Web 2.0, he or she can write about something interesting, read and respond to thoughtful articles, and participate in online videoconferences – all before bedtime.  Break the mold.  It's easy.
3.    Stay up-to-date
Fact: Between 2:15pm and 3:15pm on June 25, 2009, the day of Michael Jackson's death, CNN.com received over 20 million pageviews. (CNN)
Sharing information has never been so easy.  Most blogs display an icon that allows a person to share content with their friends on Facebook and Twitter.  Since content is constantly being recycled and passed on, information consumption is on the rise.  Breaking news spreads rapidly and social networking sites are often the first to report critical pieces of information.  Web 2.0 is a metropolis of data.  Embrace it.
4.    Become valuable.
Fact: Approximately 80% of companies use LinkedIn as a primary recruiting tool for new jobs. (Qualman, 2009)
Web 2.0 isn't only for the people; it's for corporations, too.  Companies have realized that social networking websites would be a great place to raise brand awareness and sales.  Although many companies want to embrace Web 2.0, they can't because their employees don't know the first thing about Twitter marketing or blogging.  Become a resource on all things Web 2.0 and it might lead to a promotion.
5.    Learn and grow.
Fact: There have been over 9 billion Twitter updates (also called tweets) to date. (Reed, 2010)
With all of the blog posts, Facebook updates, and tweets out there, it's nearly impossible not to learn something new each day.  Web 2.0 is a great place for self-education, both formal and informal.  Maggiani notes that social networks in particular, "capture the essence of the community members and their backgrounds and expertise." (20, 2009) The Web 2.0 world is full of things to learn.  As Einstein said, "Once you stop learning, you start dying."

.


Eric Alpin is the Associate Editor of Folk Media and works for a telecommunications company in Baltimore, Md. He is a social media enthusiast, blogger, writer, and student with a passion for leadership and self-development strategies and techniques. Find out more about Eric on Twitter.



*Photo by firehawk77
Tags: Blogs, Facebook, Social Media 101, Twitter, Web 2.0