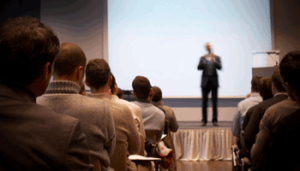 Social media (as a term and business tool) has only been around for a few years and has already skyrocketed to the top of the list for leaders and businesses to embrace. Some have rejected it completely. Others have jumped in with both feet only to find the water too deep to touch bottom.
In reading Eric Hoffer's classic book The True Believer he outlines three levels of leadership, people of words, fanatics and practical people of action.
People of Words
People of words articulate the teachings of a movement.
In the social media world, these are the A-list bloggers and speakers. Chris Brogan, Seth Godin and Brian Clark are in this group. Do they have legit businesses and take action? Yes. But primarily they are setting the tone and pace for the rest of the social media crowd.
When they write or speak the multitudes of social media "learners" listen.
Fanatics
Fanatics marshal the believers of a movement.
Gary Vaynerchuk is a fanatic… so are Laura Roeder and Mari Smith. Social media fanatics have an awesome skill for building community. They know how to group people together and inspire them. They can rally people behind the cause.
Practical People of Action
Practical people of action get the job done at the street level.
This is you. The person "in the trench" with a real life business using the strategies and ideas set forth by the first two groups.
You are like the other everyday professionals who sell windows, clean carpets, manage nonprofits, provide insurance, file people's taxes and own retail stores.
Some of the advice of social media writers is "get out there – try it – and see what sticks." The problem is, you can' afford this luxury. Your business is probably too fragile to spend time playing around to "see what sticks."
Where You Should Look
My suggestion is to find authors, speakers and websites providing practical strategies and techniques that work. It's also a good idea to listen to some of those who have done it before… you know the people who aren't social media professionals, but actually have to make social media work INSIDE their organization. You can find these people at industry trade shows and in your local chamber of commerce.
Spend the time asking questions at your local chamber of commerce. Most likely there are several businesses who have tried social media and have had success. Also – seek out case studies and watch large businesses too.
The people I mentioned above know their stuff. You should read everything that Chris, Mari, Brian, Laura, Gary, and Seth put out. They've had to make social media work for themselves, their businesses and clients. But there are some snake oil salesmen types (not mentioned in this article) that have NEVER had to use social media inside an actual organization. Beware.
If you are reading Folk Media regularly and have joined the Folk Media Insider Program, you are looking for action steps and simple, practical ways to implement social media in your business. Our promise is to come along side you and continue to provide straightforward activities that will ultimately increase your bottom line and brand awareness.

.
Joel Mark Witt is the Publisher of Folk Media and author of 21 Days To Twitter Leadership and How To Use Social Media To Find A Better Job. He has to use the advice he gives, since he currently manages the social media presence for the Maryland Z00. Joel is also a producer, author, and speaker who consults with businesses and nonprofits on how to use social media in marketing and communications. Get more from Joel on Twitter.
.

Tags: Folk Media Insider, Joel Mark Witt, social media leadership, social media strategy