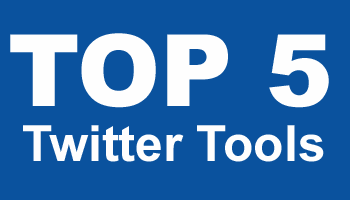 I would recommend that you start using the following five tools to augment your Twitter communications online.
Hootsuite
This is my "bread and butter" application. As of this writing I manage dozens of of various Twitter accounts for myself and clients. Hootsuite allows me to manage all these accounts from one dashboard. Plus I am able to create unique logins for my staff or clients.
One of the best features of Hootsuite is the ability to schedule tweets. You can spend some time writing Tweets in advance and then have them auto post at a later time.
Hootsuite also has the ability to track URL clicks. You can monitor the popularity of your Twitter posts with this feature.
Echofon
If your business is serious about using Twitter and social media you'll need to begin using a mobile device. If you are using an iPhone – I would recommend the free application Echofon. There are a bunch of iPhone apps for Twitter – but I like Echofon.
I use Echofon on on my iPhone to Twitter while away from my computer. I find that the best time to check my Twitter feed and respond to posts is during "downtime." Standing in line at the bank, sitting in the doctors waiting room, or passing time during a boring meeting are some of the best times to Twitter. These are wasted moments that would pass by without any productive activity. Mobile devices have turned wasted time into productive time.
Tweetbeep
I use Tweetbeep for alerts. The alert feature is great for busy professionals who want to be part of the Twitter discussion without having to actually be on Twitter 24 hours a day.
You can set up hourly alerts that will email you a summary of all the people who have responded to your Twitter posts. Then when you get an alert you can log into Twitter and engage them in conversation.
Tweetdeck
Tweetdeck is a desktop Twitter client that I use to keep informed of particular keywords and terms used on Twitter.
I use Tweetdeck to monitor predesignated search queries in Twitter. For example if you are a florist and you want to see all the recent Twitter posts mentioning flowers. You can set up a predetermined search in Tweetdeck to monitor the term "flowers." Let's say you read a post that says something like:
"My anniversary is tomorrow. I wish I could find a place to overnight flowers this late"
This tweet would show up in your search tab and you could respond immediately offering your special overnight rose delivery package.
Twittergadget for Gmail
TwitterGadget is the newest tool I've been using. Gmail allows third party gadgets to run inside their email client. I've found this useful for quick tweeting during the day. Since I live inside my inbox – this simple tool makes updating to Twitter effortless. It's a one stop shop.
Of course – at the time of this writing – TwitterGadget only allows one Twitter account. So I only use this for my personal @joelmarkwitt Twitter and Hootsuite for clients and business.

These are the tools that have been working for me, our company, and our clients. Of course tools mean nothing unless you have a Twitter business plan to make use of them.
Are there tools that you would add to this list? Please feel free to comment below.

.
Joel Mark Witt is the Publisher of Folk Media and author of 21 Days To Twitter Leadership. He is a producer, author, and speaker who consults with businesses and nonprofits on how to use social media in marketing and communications. Get more from Joel on Twitter.
.
Get the book "21 Days To Twitter Leadership" The Step-By-Step Guide On How To Twitter, Get Twitter Followers And Position Yourself As The Leader In Your Industry In Less Than 10 Minutes Per Day.