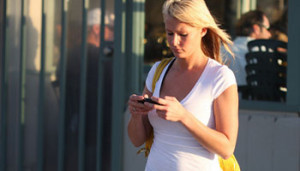 Fast follow is Twitter's new free SMS update service. Users without Twitter accounts are now able to follow your company, brand or person with a simple Twitter text message sent to 40404.
This is a huge game changer
Twitter just released this new feature for texting that will literally change the game for your business. It's called Fast Follow and it's a way for non Twitter users (like teenagers for example) to get SMS text updates directly to their phone each time you make a Tweet.
Followers don't need a Twitter account and all they need to do is text 'follow your-username' to 40404. They instantly start getting texts from your company Twitter account.
Many people don't want to sign up for a Twitter accounts. Many young people don't like Twitter and prefer Facebook instead. BUT – text messaging is popular among all ages and personality types. By giving people the option to subscribe to a Twitter feed via text message – you've increased your potential audience by tenfold.
How to follow using SMS text messaging
For example, let's say you want to get Tweets from Folk Media (@FolkMedia). Just  text 'follow FolkMedia' to 40404 in the US. (Twitter has said they are trying to add more countries as they go).
Today's Action Steps
First, you need to let every business owner you know about this post. This is something that can really impact their business. Please leave a comment below and then share this with your networks.
Second, try it yourself. Start putting messaging out on all your marketing channels that say:
Get instant alerts and updates from us via text
Text 'follow your-username' to 40404
Now go take action.
.
Joel Mark Witt is the Publisher of Folk Media and author of 21 Days To Twitter Leadership. He is a producer, author, speaker and social media marketing coach who consults with businesses and nonprofits on how to use social media in marketing and communications. Get more from Joel on Twitter or Google Buzz.
*Photo by San Diego Shooter
Tags: how to twitter, mobile marketing, text messaging, twitter mobile