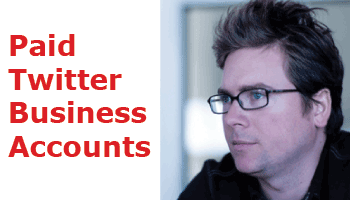 A Folk Media insider John Lucchetti alerted us today about the new Twitter Business accounts. Apparently, Twitter's co-founder Biz Stone is talking up the idea of having paid business accounts featuring advanced tools like analytics and tracking.
Stone said, "This takes advantage of some of the commercial use of Twitter we've seen from businesses like airlines and big box stores… we want to present to them a layer of features that allows them to become better at Twitter, show them some of the analytics."
"Twitter will still be free for everybody and we'll still tell them to go crazy with it," said Stone in an interview. "But we've identified a selection of things that businesses say are helping to make them more profit."
If Twitter moves to empower businesses by offering paid accounts with metrics, I think we will see a huge growth and surge in business users.
My advice is for your business to begin using Twitter now while it is still in it's massive growth phase. Plus, It is an easy way for your company to get onto the screens of the millions of mobile devices around the world.
As a business owner – would you pay for more features on Twitter?
Get the book "21 Days To Twitter Leadership" The Step-By-Step Guide On How To Twitter, Get Twitter Followers And Position Yourself As The Leader In Your Industry In Less Than 10 Minutes Per Day.
Tags: Analytics, Biz Stone, Business Accounts, Business Advice, Business Tools, Business Users, Growth Phase, how to twitter, Metrics, mobile, Mobile Devices, Social Media 101, Twitter, twitter for business