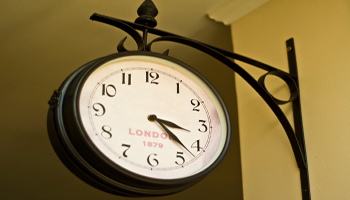 It has amazed me what has been done through Twitter.  For example, businesses have integrated it into marketing campaigns, millions of dollars have been raised for good causes, and celebrities have become closer to fans.
Different tactics have been employed to accomplish the feats above but one particularly interesting strategy sticks out – scheduled tweets.  This isn't a built-in feature of the Twitter.com web interface but it can be done through Twitter account management programs, such as HootSuite.  Scheduling tweets can enhance a movement or project and it can save you some valuable time.  The list below is not a comprehensive guide to the benefits of scheduling tweets but it illustrates the point that scheduling tweets can prove to be a valuable resource for you and your business.
Benefit #1 – You Keep Your Time
It takes some time to tweet tons of information, especially if you're someone who produces content on a regular basis.  Scheduling tweets can save you a lot of time and frustration in the long run.  Here's a scenario…
You're a quote person.  You love to read them and you love to share them.  However, you don't always have time to send one out during the day.  Let's face it, your job is demanding.  It would save you a lot of time and effort to take 20 minutes at the beginning of each month and schedule a quotable tweet each day.  This way you don't have to panic and wonder if you have sent out your quote of the day yet.
That is just one scenario as to how this would be save time.  There are plenty of others.  Scheduling tweets allows you to use up a few minutes now in order to save you hours of frustration later.
Action Step: Log into your Twitter client and schedule a post that will save you time down the road.  Do you have a message you send every day each week?  Schedule that post for the next three weeks.
Benefit #2 – Spread The Word
It can be tough to create a movement or to spread the word about a cause, especially if you are only doing it as a hobby or for a non-profit.  Scheduled tweets can ease the burden of spreading the word.  Want to promote your favorite charity or non-profit once or twice a week?  Schedule the tweets for certain days throughout the month and you'll be good to go in just a few minutes.  No need to keep track of when the last post was sent or if you have already sent your two tweets this week.
Action Step: Think about a cause you'd like to tell others about.  Schedule two tweets in order to share some information about your cause.
Benefit #3 – Automation Made Easy
There are times when we all forget to tweet or we are not able to do so.  A great way to compensate for the loss of Twitter time is to schedule tweets.  You can maintain your Twitter presence without being near a cell phone or Internet connection.  Plus, your colleagues will be amazed when you tweet while you're in a big meeting with the corporate executives.
Action Step: Figure out a time when you'll be unavailable – a movie, a dead zone, or early in the morning – and schedule one or two tweets to post at this time.
These are only a few of the benefits of scheduling tweets.  There are limitless possibilities for scheduled tweets.  Be creative and imaginative.  Try a few different tactics and see what works for you.
Overall, scheduled tweets can save you time and energy while growing your Twitter presence and the trust others have in you.

.


Eric Alpin is the Associate Editor of Folk Media and works for a telecommunications company in Baltimore, Md. He is a social media enthusiast, blogger, writer, and student with a passion for leadership and self-development strategies and techniques. Find out more about Eric on Twitter.



*Photo by NightLord
Tags: Scheduled Tweets, Social Media 101, Tweets, Twitter