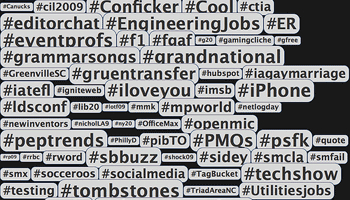 Twitter has opened a lot of doors for people, especially businesses.  For example, companies are posting job openings, news is spreading faster than it would through live TV, and start-ups are gaining more exposure each day.  But, contrary to popular belief, the Twitterverse is not easy to navigate.  It takes a lot to be noticed and network on one of the fastest growing websites on the Internet.  One good thing is that hashtags can definitely help out.
What are hashtags?
Hashtags can be easily compared to folders in a filing cabinet.  When something comes across my desk that I need to keep, I file it under the proper folder in my desk.  Hashtags are the same way.  When you are tweeting about a particular topic, you can apply a hashtag in order to "label" it correctly.  It's like a huge filing system.
How do I use hashtags?
Hashtags are simple to use.  First, they are always denoted by the pound sign ("#").  This symbol serves a few purposes.  Not only does it make the hashtag easily recognizable to followers but it also creates a link to Twitter's search feature that will allow you to search all other tweets with that hashtag.  For example, if I apply the "#NFL" hashtag to a tweet, other users will be able to click on the hashtag and see all other tweets containing that #NFL hashtag.
You can apply a hashtag to pretty much anything but you want to make sure it is relevant to your tweet.  It isn't very resourceful to apply a random hashtag to a tweet because users with commonalities won't be able to search and find your update.  To get a better understanding, visit http://hashtags.org.  You will find a plethora of information there and will be able to view and search common hashtags.
Why should I use hashtags?
Hashtags can do wonders for your Twitter reputation.  The main purpose of hashtags is to find people with common interests and updates.  If I am watching The Office premiere, I can search Twitter for "#theoffice" and find other people who are watching it.  This could lead to some follows and new information.  Hashtags can also be used an organizational tool, a research method, and a trending device.  The possibilities are endless.

Eric Alpin is a social media enthusiast, blogger, creative genius, and devoted Abe Lincoln fan.  When he isn't maintaining his website, ericalpin.com, Eric enjoys editing and shooting video, traveling, hanging out with his friends and girlfriend, and playing sports.  Eric works full-time for a telecommunications company and is currently seeking his Bachelor's Degree in Communication Studies.
*Photo By mobatalk
Tags: hashtags, how to twitter