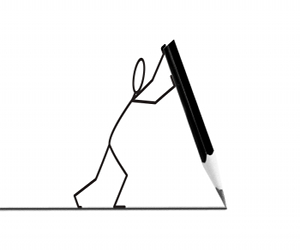 Grasping the basics of marketing is very simple. In fact, you probably don't even need a degree to be successful at marketing your business or yourself. The secret to successful marketing is to have a customer oriented mindset. If you think about he customer's needs before the your needs, chances are that you will be able to market well.
Just like marketing your business, when you market your online content, you need to focus on the people who matter: your visitors.
Staying in Tune with Your Audience
Lessons in Content Creation 101 tell us that your website and its information need to revolve around what your visitors are looking to find. Truthfully, this sounds very easy but it's a tough concept to grasp. In a perfect world, an online copy writer would know exactly what his customers need and would deliver but we don't live in a perfect world. Instead, we succumb to ideas, advice, and urges that stray from our overall mission: meet the customer where they are.
This website, for example, exists to help businesses and entrepreneurs get a jumpstart on all things social media, including marketing, email lists, current events, and hard-to-understand concepts. It's not easy to create content, though…especially content that is written to solve your problems and answer your questions.
In order to create as much targeted content as possible, we take a "tell it to your mom" approach. This helps us walk through tutorials, break down concepts, and fully explain what is happening in the realm of social media.
Develop a method or line of thought that will help you create content that is useful to your audience and that answers their questions before they need to ask.
Understanding the Behaviors of Your Visitors
Let me tell you a little secret…
The best ways to stay in tune with your audience is to talk to them and to retrace their steps.
A simple question or survey can go a long way. If you're feeling up to it, send out an email survey to your list and gauge their need for content. How many people want to know about the eating habits of sloths compared to koala bears? How many readers are interested in high school education compared to middle school and elementary school? There is A LOT you can learn from your visitors if you simply ask.
Beware: asking questions makes you vulnerable to skeptics. Some people will spin your questions as revelations that you don't know you topic. Before you dive into a survey or panel interview with clients, be prepared for those who aren't on your same wavelength.
Retracing your visitors steps is probably the best way you can get to know them. Finding out where they have been can have a huge impact on your future publication calendar.
If you haven't signed up, you should begin using an analytics tool, such as Google Analytics. These types of tools will allow for you to see what content is most popular amongst your visitors and what content they aren't touching. This will allow for you to create material suited for your visitor's needs. Want to gather more interesting data? Analytical tools can tell you:
– How much time the average visitor spends on your site; thus, you can figure out how to keep readers for longer
– How many pages a person visits each time they come to your site, allowing you to integrate more pages to your site to keep your visitors reading your useful content
– What keywords your visitors are using to find your site, which can help you with search engine optimization (SEO) and content creation
There is a ton of information you can learn from an analytical tool. If you'd like to learn how to set up Google Analytics for your site, stay tuned for a multi-part series that will begin next week on using Google Analytics.
Today's Action Steps
With a ton of new knowledge in your brain, I'd like to challenge you to do a few things today:
First, think of a way to keep your mind centered on useful and beneficial content creation. Is it a note on your computer? Is it an accountability partner? Is it locking yourself in a room with a laptop and desk lamp for 12 hours a day? (Not recommended by the management team.) Find your focus agent and use it.
Next, ask five visitors to your site or members on your email list why they come to your site and what content they find useful. Pick their brains and see if they will open up to you. If it's a success and you get good feedback, implement it. If not, see if you can engage with others. Know thy visitors.
Finally, research Google Analytics. As I said, I'll begin diving into Google Analytics a bit more starting next week. Trust me – Google Analytics has become one of my best friends as I strive toward online marketing excellence.
As always, please use the resources below to share this article on your favorite social media site. Also, did you know that Folk Media is on Facebook? Become a fan and you could win a free website consultation! If you became a fan because you read this article, email me and let me know.

.


Eric Alpin is the Associate Editor of Folk Media and works for a telecommunications company in Baltimore, Md. He is a social media enthusiast, blogger, writer, and student with a passion for leadership and self-development strategies and techniques. Find out more about Eric on Twitter.

*Photo by nkzs
Tags: content, Content Creation, eric alpin, Facebook, Google Analytics, Useful Content, User-Centered Content, Visitor-Focused Content