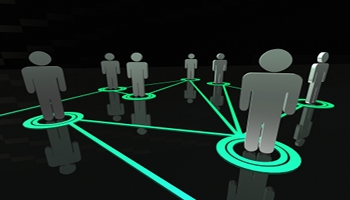 It feels kinda weird to say that most relationships today are solely virtual.  From friends to bosses and everywhere in between, relationships have gone virtual because of the Internet.  The Internet, and social networks, make relationships easy, less time consuming, and fun.  Although social media is a great way to build up your quota of friends, in-person interaction is still needed to be successful.  What's the secret?  Authenticity.
What You're Missing
I think it's safe to say that you have an online friend or two, someone you have never net in person.  That's fine.  Like I said, the Internet connects people and that is a good thing.  But do you ever wish that person could be next to you and you could hold a face-to-face conversation with them?
Online relationships lack the benefits of a face-to-face interaction.  First, when you're chatting online, you can't determine an individual's mood or body language.  Did they like the joke you just made or were they offended and are just playing it off?  You could probably tell that if you were chatting in person.
Next, you're unable to do what you want in an online conversation.  If I am chatting with you on Facebook Chat, I need to be near a device that is connected to the Internet.  If I'm not, I can't talk to you.  If we video chat, I need to be in front of my webcam.  If I'm not, I can't talk to you.  But, if I'm talking with you in person, we can move together and do a variety of different things.
Believe it or not, these two things are essential to solid relationships.  They produce character and conversation.  Most of all, they produce authenticity.
Where Did That Come From?
You're probably thinking, "Where did authenticity come from?"  It's not out of left field, though.  It's a critical aspect of relationships.
When you engage in a strictly online relationship, there is little or no authenticity.  Sure, the words you're saying are a reflection of your character (at least they should be) but there is no way to tell if someone if being 100% authentic with you – down to Earth, caring, genuine.  Online personalities can differ from in-person characters.  Trust me.
Action Steps
If you're someone who has a lot of online pals and wants to meet, at least once, in-person, here are some action steps for you.
1.  Discuss the idea – Make sure that he or she wants to meet up, too.  If not, there is no pressure.  But, I wouldn't recommend forming a deep business relationship with someone you have never met.  Be cautious.
2.  Make time – If you're really serious about connecting face-to-face, make time for it.  This will let your friend or possible business partner know that you mean business and actually want to have a meaningful relationship with them.
3.  Attend an event – A great way to meet people is through events, like tweetups.  I recently attended my first tweetup and was able to interact with quite a few people I had been following on Twitter.  It was good to build an authentic relationship with them.
Authenticity is a critical part of any relationship.  If you're looking to find a new business partner, sign another contractor, or just want to connect with some online friends, I advise you to go fro it.  It will really help your relationship and it can lead to great possibilities than you can know.

.


Eric Alpin is the Associate Editor of Folk Media and works for a telecommunications company in Baltimore, Md. He is a social media enthusiast, blogger, writer, and student with a passion for leadership and self-development strategies and techniques. Find out more about Eric on Twitter.



*Photo by gratsy
Tags: Authenticity, Relationships